BOAT RENTAL and PIKE FISHING
Svalemåla – world-class pike fishing in southern Sweden in the heart of Blekinge's archipelago
Blekinge's archipelago in the south of Sweden, is famous for its pike fishing. Here you can find plenty of large pike, often weighing around 10kg. Experience the s
ports fishing in Sweden's southernmost archipelago or rent a boat to take your family and friends out to explore our beautiful and unique archipelago.
Our guests return year after year – they appreciate the surroundings and accommodation just as much as the fishing. The varied coastline with it's rock formations, shallow bays and deeper parts ensure you a wide range of fishing experiences.
If you bring your own boat, we offer access to a small ramp for launching the boat at the fishing camp site and we can always find you a place to park your trailer. We have a wood fired sauna and a hot tub by the beach wich you can enjoy after your day of pike fishing.
Fishing waters
Popular areas for pike fishing are Järnaviks bay and the surrounding waters including those around the islands Bjärnö, Tjärö and Tärnö as well as the islands and coastline around Eriksberg nature reserve and the Bräkneån estuary. Further out to sea you can fish for sea trout. If you like fishing in strong flowing currents, you can try the rivers Bräkneån and Vierydsån only a few kilometers drive from our holiday cottages. You can buy fishing licence on iFiske.
In summary:
8 standard boats 4.10-4.40 m, 10 hp 4-stroke engines
4 premium boats Aluminium Linder 445 Sportsman (15 hp, GPS / Sonar, Minn Kota Electric motor with remote and GPS etc.)
Portable Sonar / GPS packages for rent together with our standard boats (Humminbird Helix 5)
We have our own launching ramp, for our guest boats
In the dock, cottage guests are offered space for their own boat, for a small fee.
Car parking close by the beach / boats
Possibility to hire a local fishing guide for an introductory guided fishing trip in the guide´s boat.
Pike fishing sets can also be rented when you rent a boat,  or when you go out on a guided fishing trip.
Our Boats
We have 12 boats for hire, all with modern, 4-stroke engines (9.8 hp or 15 hp). All boats are equipped with life jackets, paddles, anchor and sea charts.
We now also have four bigger, specially equipped for pike fishing, aluminium boats equipped with 15 hp engine and a bow mounted Minn Kota motor with a remote I-Pilot and a sonar with GPS.
When fishing we recommend that you are maximum 3 person/boat.
Seasons and pike fishing regulations
The best time for pike fishing in southern Sweden is from March–May and September–October, but you can fish pike here all year round.
To minimise the negative effect on the pike habitat we only allow Catch & Release. All pikes should be released back in to the water. If you want to keep a pike for food it's strictly set to one pike per boat/day when you rent a boat from us.
Be aware that only pikes between 40-75cm is allowed to keep, according to the Swedish law.
Fishing in the Baltic sea is free in Sweden, you need no license.
Boat rental prices 
Standard Boat 4.05 – 4.30 m, with 9.8 hp engine
4 h (choose a time to start) 700 SEK (incl. 12 liters of fuel)
1 Day ( 08.00 – 20.00): 950 SEK (incl. 12 liters of fuel)
2 Days 1500 SEK (incl. 12 liters of fuel)
3 Days 2000 SEK (incl. 12 liters of fuel)
4 Days up to one week 2850 SEK (incl. 12 liters of fuel)
Rent a portable Sonar kit for our standard boats, Helix 5 CIRP G2 with Internal GPS for 500 SEK/week.
See picture below.
Premium Boat Linder 445 aluminium with a 15 hp engine
Fully equipped sport fishing boat with GPS, sonar and a Minn Kota electric front motor with a remote, I-Pilote.
One week (Saturday-Saturday in fishing season) 5500 SEK
This premium boat can only be rented in combination with accommodation.

Please visit our booking page to see all the options and prices, make your reservation or send a request.
Put together and mix your own fishing package directly on our booking page and choose house type with optional items like boat, final cleaning, sauna and bedlinen and towels and you see the total price directly. 
If however you like to book only boat without accomodation you can do so by clicking the button below:
Fishing package Premium Weekend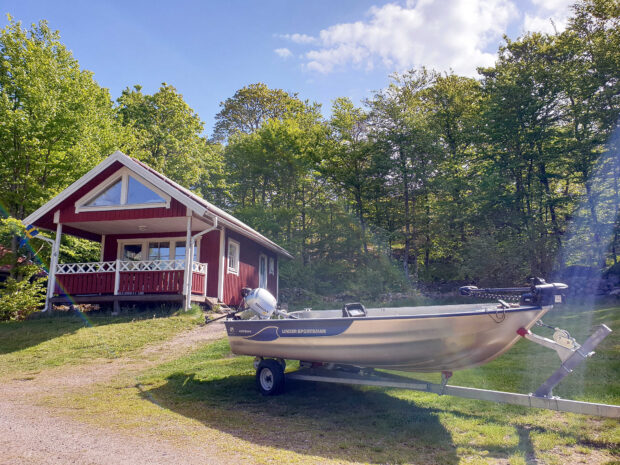 We now offer a 3 people weekend package: Thursday to Sunday or Sunday to Thursday:
1 Premium boat Linder with sonar/gps and the Minn Kota in the front, with remote.
Accommodation for 3 guests in one of our 6 bed cottages in the holiday village
1 evening access to our wood fired sauna by the beach
Final cleaning
Note that when you choose Thursday to Sunday, you have 3 full days with boat: Thursday morning until Saturday evening
If instead you choose Sunday to Thursday, you have 4 full days with boat: Sunday morning until Wednesday evening.
The total price 8500 SEK for 3 people
4 hour introductory guided pike fishing tour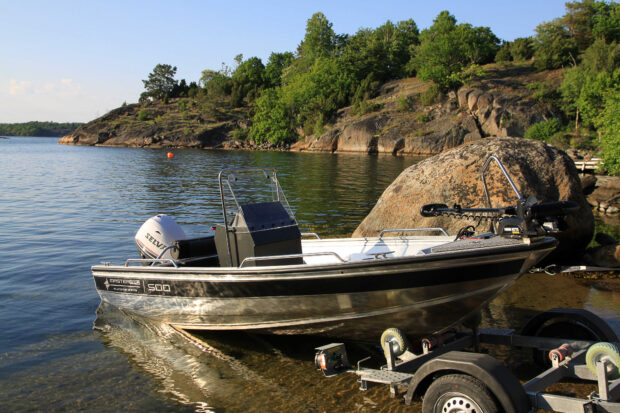 We now offer a 4-hour guided tours with a local fishing guide as an introduction to your fishing with us:
You will get information of the local area, tips on fishing techniques, popular bait types and hotspots.
Guided tours in the immediate area: Järnaviksfjärden around Tjärö, Guöviken, Köpegårdaviken eg …
The guide operates a special guide boat, 5 meters, 50 hp with Minn Kota I-pilot,which means a maximum of 2 people plus the guide in the boat.
Total price 3400 SEK for 2 people
A pike fishing set is also available for rent with bait box etc. for 100 SEK / day if you didn't bring your own equipment.
This guided trip normally has to be booked well in time before your arrival.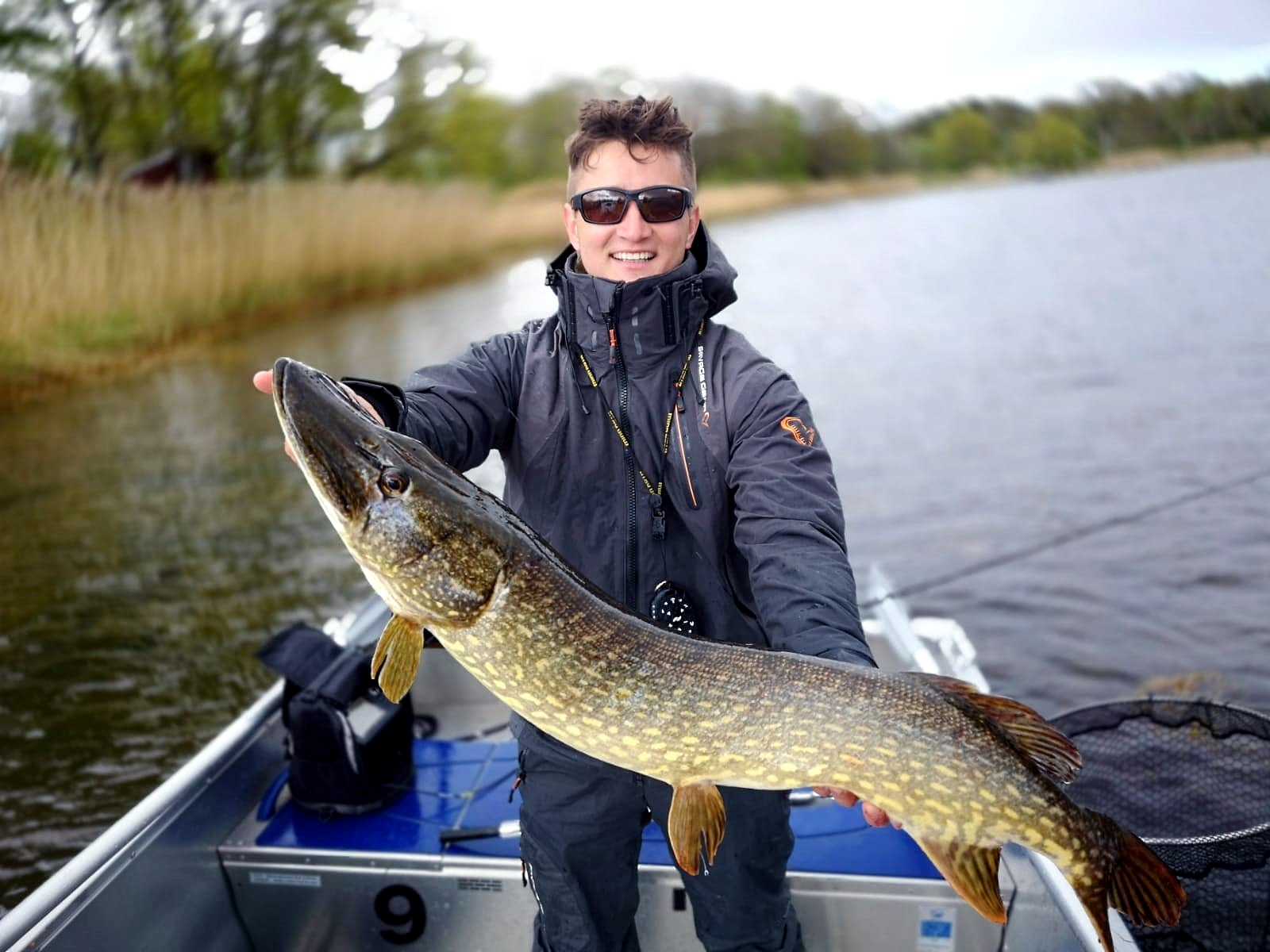 NEED ACCOMMODATION?
If you fish here one day you'll probably want to fish more. Our holiday cottages are only 300 metres from the sea – the perfect place to relax after a full days fishing.  Read more.